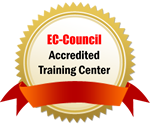 ECSA – EC-Council Certified Security Analyst v10
Sobre o Treinamento
Ensinar aos profissionais de segurança o uso avançado das metodologias de invasão, ferramentas e técnicas necessárias para realizar testes abrangentes de segurança da informação.
Os estudantes aprenderão como projetar e testar redes a fim de proteger uma organização contra possíveis ameaças.
O ECSA é uma certificação de formação avançada de hacking ético, que complementa o CEH – Certified Ethical Hacker, explorando a fase analítica de hacking ético.
Enquanto a certificação Certified Ethical Hacker expõe o aluno a ferramentas e tecnologias de hacking, o curso Certified Security Analyst leva a um passo adiante, explorando como analisar o resultado dessas ferramentas e tecnologias.
O ECSA prepara os alunos para o exame EC-Council's ECSA 412-79, pré-requisito para o EC-Council's Licensed Penetration Tester Program (LPT).
Nota
Os módulos Self-Study são disponibilizados pelo Portal ASPEN.
Para receber o voucher do exame, é cobrado como pré-requisito a submissão de um relatório Pentesting para a EC-Council.
Carga Horária: 40 horas 

É recomendada a participação no curso CEH.
Destina-se a administradores de rede, administradores de firewall, analistas de segurança, administradores de sistemas e profissionais de avaliação de risco.
Core Modules
Introduction to Penetration Testing and Methodologies.
Penetration Testing Scoping and Engagement Methodology.
Open Source Intelligence (OSINT) Methodology.
Social Engineering Penetration Testing Methodology.
Network Penetration Testing Methodology – External.
Network Penetration Testing Methodology – Internal.
Network Penetration Testing Methodology – Perimeter Devices.
Web Application Penetration Testing Methodology.
Database Penetration Testing Methodology.
Wireless Penetration Testing Methodology.
Cloud Penetration Testing Methodology.
Report Writing and Post Testing Actions.
Self-Study Modules
Penetration Testing Essential Concepts This is an Essential Prerequisite as it helps you to prepares you the ECSA courseware. Serves as a base to build Advanced Pen Testing Concepts.
Password Cracking Penetration Testing.
Denial-of-Service Penetration Testing.
Stolen Laptop, PDAs and Cell Phones Penetration Testing.
Source Code Penetration Testing.
Physical Security Penetration Testing.
Surveillance Camera Penetration Testing.
VoIP Penetration Testing.
VPN Penetration Testing.
Virtual Machine Penetration Testing.
War Dialing.
Virus and Trojan Detection.
Log Management Penetration Testing.
File Integrity Checking.
Telecommunication and Broadband Communication Penetration Testing.
Email Security Penetration Testing.
Security Patches Penetration Testing.
Data Leakage Penetration Testing.
SAP Penetration Testing.
Standards and Compliance.
Information System Security Principles.
Information System Incident Handling and Response.
Information System Auditing and Certification.
Atendimento Personalizado

Para saber mais sobre os treinamentos, certificações e soluções de TI da SoftSell, entre em contato com a gente.
É só escolher o seu canal preferido e aguardar breve resposta em horário comercial:
Curitiba: 41 3204.1999
Demais localidades: 4007.2186
WhatsApp : 41 98754.3534
Email: [email protected]
ENDEREÇO
Rua Emiliano Perneta, 680 – 9º Andar
Centro – Curitiba – Paraná – 80420-080